[ Sponsorship Information | Sponsors and Exhibitors | Hotel and Travel Information | Program | MET Money ]

March 29 – April 1, 2022
We're thrilled to announce that in 2022, the Northwest Managers of Educational Technology will be returning to their traditional in-person conference format! Our members at North Idaho College, the University of Idaho, and Lewis-Clark State College have come together to put together 3 days of sessions and events to be held in beautiful Coeur d'Alene, Idaho, at the Coeur d'Alene Resort, the Playground of the Northwest.
Included in your registration is a cocktail party with appetizers on Tuesday, March 29th, breakfast, lunch, and dinner on Wednesday and Thursday, March 30th and 31st, and Breakfast and a light lunch on April 1st.
Who Should Come?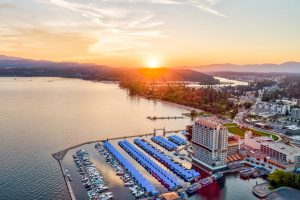 Classroom Technology Managers
Computer Lab Supervisors
Audio Visual Technicians
Streaming Media Coordinators
Classroom Designers
Teaching & Learning Managers
Instructional Designers
System and Cloud Service Administrators
Educational technology touches on all aspects of your institution's core mission. Join us for professional development and networking as we bridge technology and pedagogy.
We look forward to seeing you in March!
Program
The 2022 NW/MET Conference will have 3 tracks with nearly 30 sessions.
The program is available here.
Exhibitors
This is your chance to catch up with the latest in higher ed technology and products. The 2022 NW/MET Conference has over 30 different exhibitors booked. A list of exhibitors is available here.
MET Money
It has become an annual tradition for attendees to the conference to collect MET Money. MET Money is our special play money usable only during this conference, used to entice attendees to interact with the sponsors at the conference, and which can carry the logo of a sponsor. Attendees then use the MET Money to buy prizes and swag at our Thursday night event. Learn more about MET Money here.
COVID-19 Message
The COVID-19 pandemic has impacted our members and their institutions for nearly 2 years. It has been a difficult time for all involved. The Northwest Managers of Educational Technology are keenly aware of the impact of the coronavirus on people's health. We will follow all local, state, and national guidelines as it pertains to this pandemic. As the situation is ongoing and fluid, our vaccine requirements and face covering protocols will be specifically stated as we near the date of the conference.
Book Your Room
The Coeur d'Alene Resort is the Northwest's best golf, spa, ski, and meeting destination resort on the waterfront of Lake Coeur d'Alene. Home of the world's only floating, moveable golf green.
The Coeur d'Alene Resort's 18-story tower rises above downtown at the edge of Lake Coeur d'Alene. Each upscale, well-appointed room is designed with your enjoyment in mind. Comforts include signature pillow-top mattresses, flat-panel television displays, complimentary WiFi internet access and finest attention to every detail.
Learn more about the resort here.
NW/MET obtained a special room rate for all conference registrants and sponsors. Click here to book your room at the Coeur d'Alene Resort. The Resort is offering the preferred rate for up to 3 days before or after the conference. If you'd like to book these additional dates, you must reserve by phone. Call 1-888-965-6542 and give them code NICMET21.