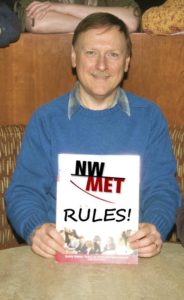 Ed Bachmann has been a member of NW/MET since Fall 1979 and has attended each annual conference through 2014. Ed has shared his knowledge and experiences via many presentations at the NW/MET events and served the NW/MET Board in the following capacities:
Washington Caucus Chairperson, 1991-92, 2011-13
Director Elect and Annual Conference Chairperson, 1993
Director, 1994
2004 Annual Conference Co-Coordinator, 2003-04
2008 Virtual Annual Conference Coordinator, 2007-08
2011 – 2014 Executive Board Bb Collaborate Meeting and Tegrity Conference Session Recording Support.
Over the the years Ed has worked on a variety of projects in his positions as Director of Instructional Media Services at Seattle University from June 1978 – December 1984, Faculty Media Specialist and Media Services Director at Olympic College (Community and Technical College in Bremerton, WA) from January 1985 to February 2000 and as eLearning Director at Pierce College (Community and Technical College in Pierce County, WA) from February 2000 to November 2014.  He led initiatives like the building of ITV/videoconferencing services, the creation of telecourse and online programs, the rollout and migration of Learning Management Systems, the implementation of lecture capture tools, the design of educational technology facilities, as well as development of successful faculty training programs.
Ed also served as the inaugural Chairperson of the Washington Community and Technical Colleges eLearning Council in 2000, their Treasure/Membership Coordinator from 2001 to 2014 and collaborated on system initiatives, like WashingtonOnline and technology RFPs.
Ed is now retired and enjoys riding his motorcycle, boating, home projects, golfing and spending time with his family in Gig Harbor, WA.