2020 Sponsorship Information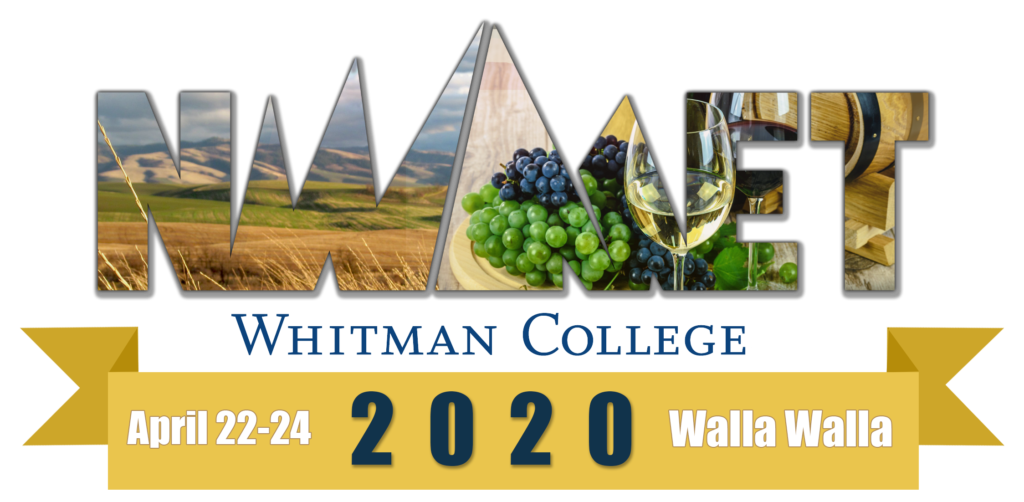 Sponsor & Vendor Info
Conference Hotel:
Marcus Whitman Hotel and Conference Center
6 W. Rose St
Walla Walla, WA 99362
1-855-877-8414
Conference Rate:
Be sure to mention you're staying for the NW/MET Conference
King room: $112/night
Double Queen Room: $124/night
The Marcus Whitman offers free shuttles to and from the airport.  If you do choose to rent a car, there is not a parking fee at the hotel.
Airport:
The Walla Walla airport is a small regional airport that currently only offers 2-3 flights per day on Horizon Air.  All flights to Walla Walla are routed through Seattle, so you might want to look into flying into Pasco, WA, which is about a 45 minute drive to Walla Walla.
Shipping Gear:
If shipping equipment directly to the hotel and would like to avoid storage fees, it will need to arrive no sooner than April 20th.  Should you need to ship equipment to arrive at an earlier time, please let us know and we will have you ship to our location at Whitman College.  Please contact the hotel to coordinate anticipated shipping (855) 877-8414. All showcase equipment will need to be removed from the hotel floor no later than 10pm on Thursday, April 23rd.
Prizes:
ALL SPONSORS: Thursday, April 23rd, will be our evening of entertainment.  We will be walking to The Powerhouse Theatre and we request that all vendors supply a gift of at least a $50 value.  This will be a silent auction using "Met Money," which is collected by attendees throughout the conference. Each auction item will have verbiage explaining which company supplied the item(s).
WINE & ONION SPONSORS:  During meals you will get to raffle a prize that your company must provide.  There is not a minimum/limit on the prizes, so whatever you choose to giveaway.  Each company will be called to the lectern throughout the conference, you will pull one raffle ticket, announce the winner and will have 5 minutes to address the group however you wish. We are willing to allow short Powerpoint presentation, if you wish.
Attendee Information:  
We will update this information as we get closer to the conference, but we're anticipating anywhere from 60-100 attendees.
Additional Sponsorship Opportunities:
We need money for student scholarships:  We're looking for 2-3 students from any participating/attending schools who could attend the conference with little to no cost to them.  We are willing to accept one or two sponsors to help cover these costs.  We're hoping for one sponsor of $1500, or two at $750.  Sponsorship will include both verbal and written acknowledgment and potentially helping with the selection process.
Dessert and breaks sponsorship needed: $750 will secure the official sponsor of breaks/desserts.  This will include verbal and written acknowledgment (probably table tents on all the break tables).