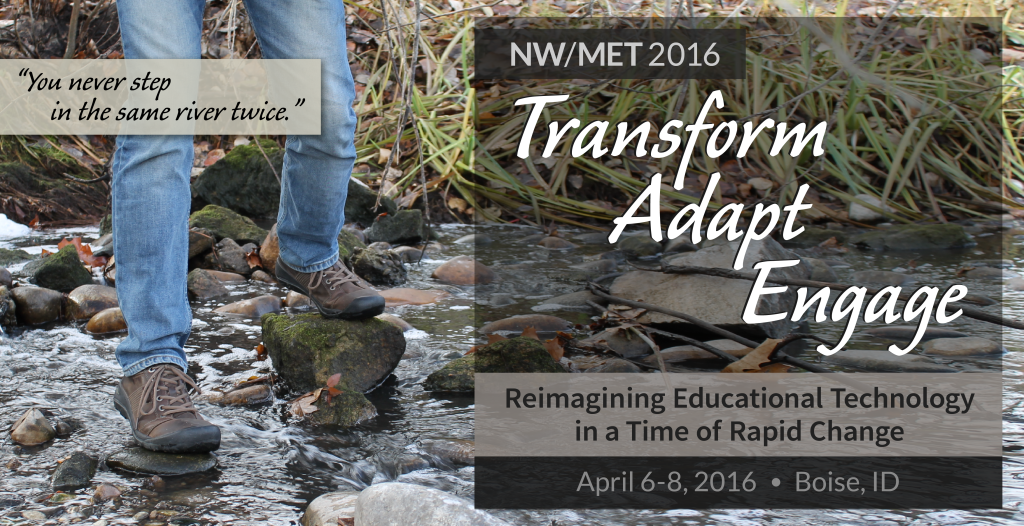 Conference Registration
Conference Program
Sponsor Logistics Information
Hashtag: #NWMET2016
Location
NW/MET is traveling from beautiful Blue Mountains in Walla Walla, WA to the verdant city of trees, Boise, ID for the 2016 annual conference, April 6-8, hosted by Boise State University.
We were "perfectly paired" from the Blue Mountains, tasted it's fruit, and engaged in learning, networking, and technology.  In 2016, we will be in a place where innovation is constantly used to adapt to rapid change, which is represented by our theme, "Transform, Adapt, and Engage: Reimagining Educational Technology in a Time of Rapid Change". The tag line, "You never step in the same river twice", makes reference to being prepared to what lays ahead. We hope that at this year's conference, participants will come away with renewed energy, tools and know-how to head current and future challenges in instructional technology support in higher education, encompassing topics such as classroom design, online/blended learning, accessibility, pedagogy, and media tools.
Venue & Lodging
This year's conference will be held in the beautiful Grove Hotel, located in downtown Boise, ID, within walking distance to many local attractions. Booking information is on the Venue page.